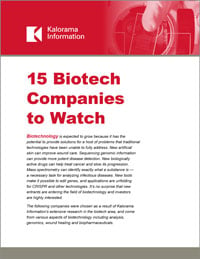 A variety of biotechnology companies are creating breakthrough technologies and products that have the potential to address some of our world's biggest health challenges — from cancer treatment to advanced wound healing to infectious disease control. Biotechs continue to attract the interest of investors, scientists, and business leaders alike.
Drawing on research from Kalorama Information, a leading healthcare market research firm, this new e-book highlights 15 biotech firms that are engaged in multiple areas of the market. These include some of the largest biotech companies around the world, as well as small biotech companies that are not as well known.
Download this free e-book to access valuable information on the following:
Emerging technologies and tools

Novel products

Mergers and acquisitions

Research collaborations and joint ventures

Past and present business strategies

Commercial applications of technology
This e-book is a useful resource, whether you're interested in learning about several top biotech companies, or want a quick overview of what's happening in the biotechnology industry.