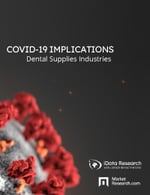 The global COVID-19 pandemic has had a damaging effect on the dental industry, but the specific impact varies across different market segments, regions, and time periods.
Get the latest dental market insights and forecasts with a new white paper from iData Research, Inc.
Featuring concise text and easy-to-read charts, this white paper provides a quick overview of COVID-19's impact across a range of dental markets in the US, Europe, Latin America, and Asia-Pacific.
Fill out the form to download your free copy today.