Look into the future of this fast evolving technological
phenomenon.
It's an industry that IT researchers estimate to be
in the hundreds of billions of dollars, but the issue is more about
timing than size.It may take a decade to fully develop, rather than the few
years than some would have us believe.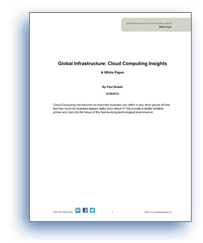 Download the White Paper to learn:
The Changing CIO Function - and his/her ability to supply resources to address dynamic demands.
The Details of Cloud Computing - what it is and what it can be used for.
Software as a Service (SASS) - learn about four key "pillars," otherwise known as the Extreme Network approach, a platform that can scale to the future demands and a best of breed strategy.
Cloud Computing is the next wave of information technology for individuals, companies and governments. Download your free white paper today.
Thanks,
Richard Washington
Marketing Manager