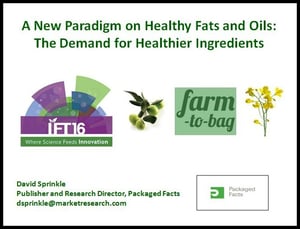 A New Paradigm on Healthy Fats and Oils:
The Demand for Healthier Ingredients
A food industry revolution is driving a shift in attitudes about on fats and oils. At the 2016 IFT Annual Meeting, Publisher and Research Director at Packaged Facts, David Sprinkle, discussed consumer interest in specific oils and fats. His presentation also included insight on how processed food manufacturers and retailers can trigger growth by formulating with healthy oils and highlighting this product benefit.
This presentation includes information on:
Shift in opinions on fats and oils.
How the products consumers purchase at grocery stores have changed.
Where growth in food manufacturers and retailers is coming from.
Fill out the form to gain valuable information on healthy fats and oils.