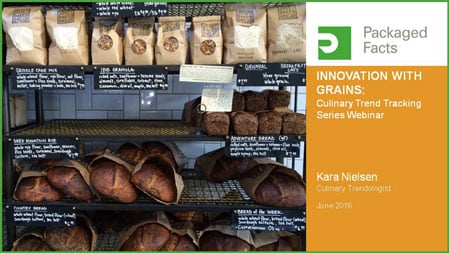 Thanks for tuning into our webinar!
Packaged Facts' webinar discusses grain-based food product development and innovation from various ingredient , nutrition, and consumer trend and expectation perspectives, in the context of the fast-changing competitive landscape for fresh, prepared, and packaged foods.
Kara Nielsen, an expert in the study of food and beverage trends and the consumer values that drive trend growth and adoption, presented for this live webcast, moderated by Packaged Facts research director David Sprinkle.
Among the food & beverage topics discussed are:
Connecting to heirloom grain producers: telling the story of the new grain economy
Returning to traditional and ancient grains: breads, cereals, pasta and more
Leveraging nutrient-dense grains: sprouted and high-protein options
Snacking on grains: next-generation baked goods, salty snacks, and snack packs
Going against the grain: grain alternatives for gluten-free and beyond
Fill out the form to view the recorded session today.