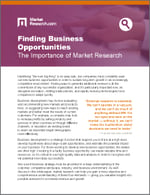 Identifying "the next big thing" is no easy task, but companies must constantly seek out new business opportunities in order to sustain long-term growth in an increasingly competitive environment. Finding ways to generate additional revenue is at the cornerstone of any successful organization.
Drawing on real-world knowledge and experience, this white paper highlights fresh perspectives from a variety of Fortune 500 companies that use syndicated research to gain a competitive edge and drive business growth.
Read this white paper to learn how third-party market research can help you identify potential market opportunities and assess how various products and segments will perform in the future.
Fill out the form to download your free white paper today.