Free White Paper Download
When you work in the fast-paced, ever-changing world of foodservice and food retailing, keeping abreast of the most current industry trends can be a real challenge. And, in order to set yourself apart from your competitors, you must go beyond the traditional trend-spotting paradigm and vet trends to uncover new opportunities.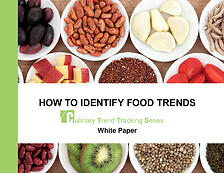 In How to Identify Food Trends, you will learn:
How to use a data-driven approach to help identify trends with high revenue potential

How to analyze food trends to create new food opportunities

How to use retail and menu trend data to vet food trends

How to tap both experts and consumer drivers to identify valid food opportunities
Fill out the form to get your free white paper.