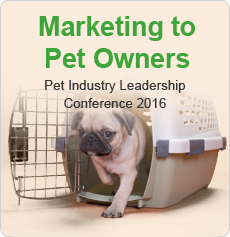 What Trends are Marketers Using to Attract Today's Pet Owners?
"Marketing to Today's Pet Owners," will help you find out which trends marketers can take advantage of to attract consumers to their pet products and services.
In this presentation, you will learn about:
Pet ownership by age bracket, 2005 vs. 2015
Major trends that can be used to market to consumers, including premiumization, humanization, and health & wellness
Household usage rates for coupons and promotions on pet products and services
Fill out the form to gain valuable information on consumer demand for which trends influence marketing tactics .