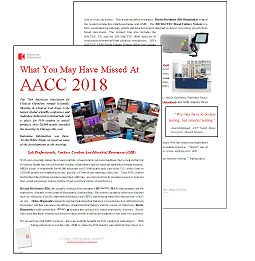 The American Association for Clinical Chemistry is the largest meeting of lab professionals and IVD vendors with a clinical purpose. Each year it's an opportunity for the IVD industry to demonstrate new products and highlight important features of their testing products. As premier researchers of the IVD industry, Kalorama Information attended the American Association for Clinical Chemistry (AACC) in Chicago this month and produced a white paper of key developments in the meeting.

The white paper contains:
New products from vendors

Major themes at the meeting

About the new AACC POC certification

Summaries of scientific sessions

Who sponsored what talks?

Fill out the form to download your free white paper.